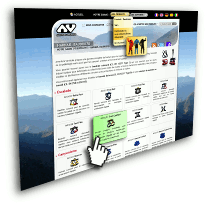 Our online catalogue has been updated to its new version in english / french!
The new website will allow you to choose your equipments more easily among Aventure Verticale range, and to find more quickly an outlet selling them.
It is also easier to share and bookmark each one of our webpages to let us know which are your favourite equipments. Our

page and our

are good places to let us know it too.
What is new on AV equipments webpages?
On every product sheets, you can find:
its technical notice in PDF for our PPE
its technical features
high definition pictures
a list of outlets regularly sellingqui this product (if your usual shop isn't listed, don't hesitate to make it get in touch with us)
other AV equipments for similar activities