[ Mobile version ] [ PC version ]
Our equipment range » Bags and packs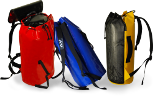 Aventure Verticale provides you a full range of climbing, canyoning, caving and work bags, available in various volumes and models that meet your needs.
In addition to our chalk bags for climbing, discover our kit bags and water bags adapted for sport as well as for work.
Canyoning bags are all equiped with a water discharge, by round holes (water bag range) or by a resistant grille (water bag grille range) while caving bags form the kit bag range equally appreciated by professionals.
Canyoning
Caving
Work and Safety